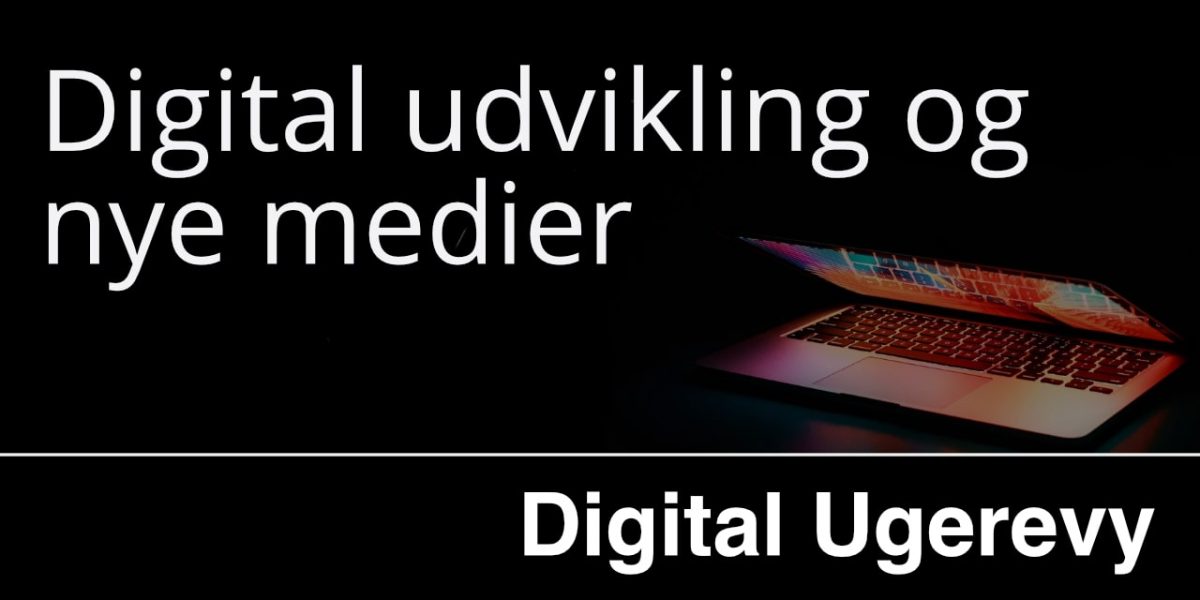 Facebook går rundt og venter på en kæmpebøde, mens Twitter taber brugere og tjener penge. Tvivlsomme medier snyder politikerne (som danskerne undgår på de sociale medier) – og så er der muligvis en podcasting-krig på vej. Det og meget mere finder du lige her.
Digital Ugerevy har din ryg – her er de vigtigste historier om nye medier og digital udvikling fra påskedagene.
Få det ugentlige overblik
Én mail. De vigtigste historier. Overskueligt.
…og så er det gratis 🙂
Om Digital Ugerevy
Dette er stedet, hvor du kan få overblikket. Det handler om nye medier, sociale platforme og digital udvikling i mediebranchen. Det er dit brief på, hvad der er sket i ugen, så du kommer up-to-date, mens du nyder din morgenkaffe.
Digital Ugerevy har mere end 500 følgere, der arbejder indenfor journalistik, kommunikation, markedsføring, digital udvikling og ledelse.
Se hvad nogle af følgerne siger

? Sociale medier

Her finder du historier om eller fra de store sociale platforme, der har en enorm rolle at spille i kontakten mellem udgiver/afsender og modtager.
Facebook:
Danskerne undgår politikerne
For det er kun en mindre del af danskerne, der følger folketingspolitikere på Facebook og Twitter. Og de færreste har lyst til selv at deltage i politiske diskussioner på de sociale medier.
Facebook forventer stor privacy-bøde
I Facebooks rapport for første kvartal af 2019 regner det sociale medie med en bøde fra den amerikanske konkurrencemyndighed FTC på op til 5 milliarder dollars for brud på en aftale om beskyttelse af brugernes privatliv
---
Facebook sees 26% revenue growth as $5B FTC fine looms
Mobile Marketer
…og ansætter privacy-forkæmpere
The hires highlight how Facebook — under fire for multiple controversies over its handling of user data, hate speech, misinformation and political content — is pursuing a two-track approach to Washington, tapping Republican insiders to deal with the Trump administration and GOP-controlled Senate, while scooping up privacy activists to help navigate the seemingly endless user data scandals surrounding the company.
Elgigantens erfaringer med Facebooks Workplace
Jeg har selv arbejdet et sted, hvor vi havde Workplace i stedet for intranet – og det fungerede fænomenalt.
De 2.300 medarbejdere i Elgiganten blev i 2016 præsenteret for et nyt moderne intranet. Ind kom Facebooks erhvervsrettede kommunikationsplatform Workplace, som selskabet efter et par år nu gør status på. Læs her om elektronikkædens erfaringer og oplevelser med platformen.
3 millioner annoncører på Facebook og Instagram Stories
Impression growth was primarily driven by ads on Instagram Stories, Instagram Feed and Facebook News Feed," said CFO David Wehner. He said that the year-over-year decline in average price per ad reflects an ongoing mix shift towards Stories Ads and geographies that monetize at lower rates. According to the Wehner, Facebook saw the strongest ad revenue growth come from the U.S. and Canada at 30%.
Instagram lancerer quiz-stickers i Stories
Of course, Instagram also has poll stickers, which it launched in 2017, and really, the quiz sticker option is pretty similar. But it adds more of a fun, competitive element, giving users an option to get the right answer and feel a sense of achievement, as opposed to just providing feedback.
Twitter:
Twitter taber brugere men tjener flere penge
Selv om Twitter har tabt seks millioner brugere det seneste år, er det sociale medie blevet bedre til at tjene penge. Det viser det amerikanske selskabs regnskab for første kvartal, der er offentliggjort tirsdag.
---
Twitter's ad revenue jumps 18% as marketers invest more on the platform
Marketing Land
…og vil lade folk rapportere "misledende" tweets
The new tool will first be rolled out in India, where general elections are already underway, on Thursday, and in the European Union, which holds elections in the last week of May, on April 29.
…og opfinder sin egen målestørrelse
In its latest effort to innovate around its business model of opacity, Twitter officially today unveiled its latest self-invented metric, dubbed "monetizable daily active usage."
Twitter udbetaler flere penge til medier
Driven by a growing number of content deals, Twitter says it paid 60% more revenue back to publishers in 2018 than the year prior — the second consecutive year of 60% growth in payouts.
Trump brokker sig til Twitter-chef om tabte følgere
U.S. President Donald Trump met with Twitter Inc Chief Executive Jack Dorsey on Tuesday and spent a significant time questioning him about why he had lost some Twitter followers, a person briefed on the matter said.
---
Columbia Journalism Reviews Mathew Ingram har flere links om historien.
De andre:
Var det forkert at blokere sociale medier i Sri Lanka?
A number of tech commentators, from The New York Times to The Guardian, quickly expressed support for Sri Lanka's decision, citing it as evidence that Facebook has failed to stop the spread of misinformation and hate speech in the country and elsewhere.

Yet civil rights experts and researchers within Sri Lanka worry that the practice of shutting down entire swaths of the internet—which has become increasingly common around the world—can do more harm than good
Instagram og YouTube disrupter lovene for børnearbejde
Those laws, which were designed to protect child stars from exploitation by both their parents and their employers, are not being regularly applied to today's pint-sized celebrities, despite the fact that the major platforms, YouTube and Instagram, are based in California. The situation is a bit like "Uber but for …child labor", with a disruptive technology upending markets by, among other things, side-stepping regulation.
Slut med Instagram-æstetikken
While Millennial influencers hauled DSLR cameras to the beach and mastered photo editing to get the perfect shot, the generation younger than they are largely post directly from their mobile phones. "Previously influencers used to say, 'Oh, that's not on brand,' or only post things shot in a certain light or with a commonality," says Lynsey Eaton, a co-founder of the influencer-marketing agency Estate Five. "For the younger generation, those rules don't apply at all."
Snapchat slår ned på sponseret indhold, der bryder reglerne
Earlier this month, Snap quietly added a new clause to its community guidelines. Under a section titled "Impersonation & Spam" is a bullet point that reads: "We prohibit spam and deceptive practices, including content that imitates Snapchat ad formats."
Og når 75% af de 13-34-årige i USA
Snapchat is no longer bleeding users — in fact, it's adding them. The platform added daily users for the first time in the last three quarters, now totaling 190 million daily active users, the company reported on April 23 in its first-quarter of 2019 earnings release.
Sådan bruger medier TikTok
As of February, NBC News' "Stay Tuned" has posted 26 videos on TikTok. The 15-second videos feature one of the show's three hosts — Savannah Sellers, Gadi Schwartz and Lawrence Jackson — commentating on news like the season premiere of "Game of Thrones"or participating in challenges like pineapple pulling.
Flere lande blokerer sociale medier
Antallet af lande, som har blokeret borgernes adgang til sociale medier, er steget de seneste år, viser opgørelse fra Jyllands-Posten. Udviklingen bekymrer menneskerets- og ytringsfrihedsfortalere.
Tips til din digitale markedsføring
A Small Business Guide to Google My Business [Infographic]
Social Media Today
The Evergreen Guide to Launching a Facebook Advertising Strategy
Falcon
4 Top Tools for Finding and Connecting with Instagram Influencers
Social Media Today
? Tendenser

Her kan du læse nogle af ugens tendenser indenfor medier. Det kan være en ny metode eller tilgang, branchen forsøger at tage til sig.
Danske Mediers Zuckerberg-avisannonce virkede
(Det er desværre ikke Zuckerberg selv, der dukker op)
Facebook sender direktør til Mediernes Årsdag for at tage diskussion om Facebooks rolle i medieudvikling og folketingsvalg. Meldingen kommer, efter Danske Medier tidligere i april sendte en åben invitation til Mark Zuckerberg.
Tvivlsomme medier snyder politikerne
Tvivlsomme artikler fra yderst tvivlsomme kilder sætter ikke kun dagsordenen på de sociale medier. De bliver også inddraget i Folketinget, hvor politikerne stiller spørgsmål til ministrene med afsæt i misvisende oplysninger. Det skriver Politiken.
Dansk copyright-lov i strid med EU-regler
Problemet er bare, at loven er i strid med EU-retten. Og det gælder ikke kun reglerne om, hvem der skal betale for at bruge musik i offentligheden. Adskillige af paragrafferne i den danske ophavsretslov, som fastslår, hvornår kunstnere har ret til at få penge, passer simpelthen ikke.
Ny podcast-app vil vise dig, hvad vennerne hører
Den har dog den udfordring, at dine venner også skal lytte til podcasts i den nye app.
When you search for podcasts, for example, you may see your friend's face pop up as a listener. Otherwise, it functions as any other podcast player does.
Podcasten Dårligdommerne lukker og slukker
– Ærede jury. Det er med tungt hjerte, at vi meddeler, at vi efter næsten fem år drejer nøglen om. Jep. 'Dårligdommerne' stopper. Det er ikke en joke eller en forsinket aprilsnar. Det er ikke på grund af interne stridigheder eller andet.
Nyt nichemedie fra A4 Medier
Et nyt digitalt betalingsmedie om dansk arbejdsmiljø ser dagens lys. Mediehuset A4 Medier, det tidligere Ugebrevet A4, står bag som led i selskabets relancering efter skilsmissen fra Freeway. Flere nichemedier er på vej.
'Solution Set' sætter fokus på mediebranchens løsninger
Hvis du er fast følger af Digital Ugerevy, er du uden tvivl stødt på artikler i serien 'Solution Set' fra The Lenfest Institute. Journalism.co.uk har en artikel om konceptet – herhjemme er det baggrunden for 'Solutions' hos Medietrends.dk.
US-based project Solutions Set brings real-world solutions to ongoing newsroom struggles by looking at case examples in the US and around the world
The Skimm lancerer SMS-tjeneste
On Wednesday, The Skimm pulled the curtain off a 1:1, Q&A texting service — no bots, just humans for now — to help its paid app subscribers contextualize the news of the day in their own lives.
Derfor laver LinkedIn eget indhold
Hempel joined the site this year after 17 years in magazine journalism, working for prestigious legacy brands like Businessweek, Fortune, and Wired. The types of stories she's writing now for LinkedIn, she explained, are similar to what she was doing by the end of her tenure at Wired: "ideas-driven pieces about the nature of how technology companies are changing."
? Business

Her kan du læse nogle af ugens historier og tendenser indenfor forretningsudvikling i mediebranchen. Altså det, der handler om at tjene penge.
Digitale annoncer rundede 8 mia. i Danmark
Søgeordsannoncering på Google stod sidste år for knap halvdelen af den digitale annonceomsætning, som med en samlet vækst på 9,6 pct. nu har rundet otte mia. kr. i Danmark.
---
Sådan udviklede reklamemarkedet sig i 2018
MediaWatch
Digital nulmoms favoriserer abonnementer
Den nye lov fjerner nemlig momsen på digitale aviser, men vil fastholde momsen på et eventuelt løssalg af artikler. Dermed har mediehusene, der i forvejen er skeptisk indstillede overfor mikrobetaling, en meget kontant avanceforskel på 25 procent i helabonnementets favør.
---
Danske Medier frygter folketingsvalg vil bremse digital nulmoms
MediaWatch
Udgivere kritiserer Googles "Unified Pricing"
Google held a meeting Thursday with its top publisher partners to discuss numerous new product changes, collectively called "unified pricing," that could upend publisher strategy and leave them with less control over their ad inventory.
---
Everything you need to know about Google's 'unified pricing' product changes
Branchen venter spændt på Luminarys lancering
Podcast wars: $100 million startup Luminary launches Tuesday without Reply All or The Daily
---
Flere podcastere og podcastingfirmaer har forladt Luminary, skriver Nieman Lab.
Podcasting: Er der en platformskrig på vej?
Luminary gets pushback from Spotify and The New York Times: temporary glitch or the real start of the platform wars? Plus: Gimlet gets a union, a new podcast incubator, and Mueller Mueller everywhere.
Hvad er programmatisk annoncering?
On this episode of the Digiday Podcast, Mike Smith, chief data officer at Hearst, joined Digiday editor-in-chief Brian Morrissey in an attempt to break down the current state of programmatic advertising.

Programmatiske annoncører vil tættere på udgivere
Vi tager lige en mere om programmatisk annoncering, nu vi er inde i rytmen:
While the idea of closing the gap between advertisers and publishers is nothing new, the sheer number of intermediaries between the two has made it easier said than done. But as the likes of Hershey's make peace with those vendors that help, rather than hinder, the performance of their ads, advertisers' attention has turned to how to manage paying vendor fees without robbing the media seller.
ads.txt på vej på mobil – men det går langsomt
A little more than a month since the industry's anti-fraud effort was officially extended to mobile in-app ads, adoption for app-ads.txt among mobile apps lags. Roughly 4% of the top mobile apps have adopted app-ads.txt, according to PubMatic, which has developed a crawler to monitor adoption among the mobile apps that use its supply-side platform to sell ads.
? Udvikling

Her får du et kig på nogle af ugens historier indenfor den digitale udvikling og teknologi, der enten direkte eller indirekte kan have betydning for medier/udgivere.
Anti-annonce-browser får nu annoncer
Brave users can now earn its cryptocurrency Basic Attention Tokens(BAT) for viewing the browser's built-in ads. To get the new feature, you'll have to downloadBrave version 0.63 for Windows, macOS, or Linux.
Tech-platforme skal offentliggøre ranking-metoder
En række helt nye EU-regler skal regulere digitale platforme og skabe mere fair vilkår for virksomheder og privatpersoner, der er aktive på eksempelvis markedspladser og udlejningsplatforme.
Samsung udskyder lancering af foldetelefon
Ups.
Samsung Electronics Co. delayed the rollout of its Galaxy Fold because of technical problems just days ahead of its planned launch, a blow to the hardware giant and its hopes for a product it billed as one of the smartphone market's biggest innovations in years.
---
Samsung Galaxy Fold reportedly failed due to 7mm screen bezel gap
VentureBeat
20% af nettets trafik er robotter
So-called "bad bots" can be tasked with performing denial-of-service (DoS) attacks, they can scrape and steal data, they may be used to automatically publish fake content or reviews, and also skew advertising and visitor metrics.

Bots, in general, are estimated to make up roughly 37.9 percent of all Internet traffic. In 2018, one in five website requests — 20.4 percent — of traffic was generated by bad bots alone.